Annual Yearling Sale
2021 Annual Yearling Sale
Sale Date: Friday & Saturday – July 23 & 24, 2021

Sale starts at 12:00 noon CDT – July 23
Sale starts at 10:30 a.m. CDT – July 24
Location: San Antonio, TX.
Exposition Hall at The Freeman
All YEARLINGS Consigned horses are Accredited Texas-Bred yearlings.
All Yearlings selling in this Sale are eligible for the 2022 TQHA Sale Futurity (MUST PASS THROUGH SALE RING).
The 2021 Sale Futurity will be run at Sam Houston on July 31.
TRACK Magazine invites everyone to Friday Morning's Yearling Viewing with Free Breakfast Tacos, Bloody Marys, etc beginning at 8 a.m.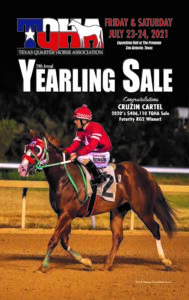 Previous Sales:
2020 Catalog & Results
2020 Yearling Sale Catalog Online  2020 Yearling Sale Catalog PDF  2020 Sale Results
2019 Catalog & Results
2019 Yearling Sale Catalog PDF  2019 Sale Results
2018 Catalog & Results
2017 Catalog & Results
2016 Catalog & Results