NOVICE SADDLE SERIES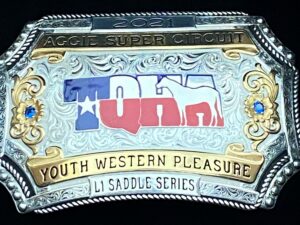 2021 Shows:
4 TQHA approved shows in 2021.  (**Approved Series shows will rotate per year)
Click each show for schedules and information:
WHAT IT IS:
TQHA Approved Shows that have the following novice classes.
7 novice classes (Am & Youth =14 total)
Ranch Riding, HUS, HSE, Horsemanship, Pleasure, Trail, Showmanship
AWARDS:
Only TQHA members eligible for awards
Year-End Final High Point
**Awarded at TQHA Annual Meeting Awards Banquet – January 2022
RULES 
Both exhibitor and horse owner must be current TQHA member. (No retroactive must be member by Aggie Super Circuit – can join at the horse show)
Must be AQHA L1 eligible.
Must show at 3 of the 4 nominated shows, TQHA intro show is mandatory.
Do not have to show to every judge at those shows, but all judges do count.
Each individual judge's placing (show) at the nominated shows counts towards year-end (saddle) points in the respective division.
•• For example: For the L1 Am Trail there will be 13 eligible judges(shows) you do not have to show to all 13 judges, however, all 13 judges' placings will count towards year-end saddle series awards.
Points are determined by the number of entries in the class up to 10pts. For example: If there are 10 people in the class 1st place gets 10pts, 2nd place gets 9pts, 3rd gets 8pts, etc.
In the event of a tie, the person that has shown to the most judges wins the tie-breaker. Second tie-breaker – a person with the most 1sts. Thereafter will be under the discretion of TQHA.
Points Per Place
| | | | | | | | | | |
| --- | --- | --- | --- | --- | --- | --- | --- | --- | --- |
| # Horses in class | 1st | 2nd | 3rd | 4th | 5th | 6th | 7th | 8th | 9th |
| 1 | 1 | | | | | | | | |
| 2 | 2 | 1 | | | | | | | |
| 3 | 3 | 2 | 1 | | | | | | |
| 4 | 4 | 3 | 2 | 1 | | | | | |
| 5 | 5 | 4 | 3 | 2 | 1 | | | | |
| 6 | 6 | 5 | 4 | 3 | 2 | 1 | | | |
| 7 | 7 | 6 | 5 | 4 | 3 | 2 | 1 | | |
| 8 | 8 | 7 | 6 | 5 | 4 | 3 | 2 | 1 | |
| 9 & over | 9 | 8 | 7 | 6 | 5 | 4 | 3 | 2 | 1 |
---
2021 Results
Novice Saddle Series - Aggie Super Circuit Results Photos
Novice Saddle Series - Aggie Super Circuit Results Photos
2020 Results
Novice Saddle Series L1 Youth High Point Champions
Novice Saddle Series L1 Amateur High Point Champions
Novice Saddle Series - Saddle Winner Finalists
Novice Saddle Series - Athens
Novice Saddle Series - Abilene
Novice Saddle Series - Sulphur Springs
Novice Saddle Series - Intro Show